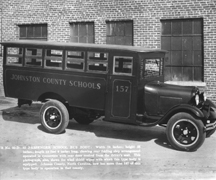 State Board of Education 
Policy EEO-M-003 - 
Revision to Allotment 
Policy Manual


November 3, 2005


Incentive to Adopt
Local School Bus Idling Policies

In order to be eligible to receive any 
mid-year transportationallotment
resulting from increased fuel prices, 
an LEA must have areduced idling policy 
in place at the beginning of the school 
year. For the 2005-2006 school year, 
the policy must be in place no later
than January 10, 2006.  The local 
policy must, at a minimum, prohibit all
unnecessary school bus idling on 
school grounds and prohibit the 
warming up of buses longer than
5 minutes. As always, any increase 
in allotments will be subject to the 
availability of funds.
In order to view PDF documents, you must download and use Adobe Acrobat Reader. (free for download)

All local boards of education in North Carolina have adopted reduced idling policies to save fuel and improve student health. 
Click here to see the Comparison of LEA Idling Policies  (Excel Spreadsheet)


Department of Public Instruction Memoranda

School Bus Idling Restrictions Memo, Fuel Conservation and Student Health - September 2006
To: All Superintendents & All Transportation Directors
From: Philip Price, Assoc. State Superint., Derek Graham, Section Chief, Transp. Services

School Bus Idling Restrictions Memo, Fuel Conservation and Student Health - July 2005
To: All Superintendents & All Transportation Directors
From: Philip Price, Assoc. State Superint., Derek Graham, Section Chief, Transp. Services

School Bus Idling Restrictions Memo - June 2004
To: All Superintendents & All Transportation Directors
From: Philip Price, Assoc. State Superint., Derek Graham, Section Chief, Transp. Services

Reduced Idling Training Materials and Resources

Internet Resources