Stop Arm Violation
Public Awareness Banners & Posters
A project to produce public relations materials was completed by a committee of professionals from the Center for Urban Affairs and Community Services (CUACS) in association with the North Carolina Department of Public Instruction (NCDPI). These materials will be used to conduct a series of public relations events regarding the danger of passing a stopped school bus. To support these public relations events, trade show banners were developed based on a review of the history of stop-arm violations and their relationship to safety and transportation issues within North Carolina. Current stop-arm informational materials were incorporated into the developed banners. These banners and informational materials are available for NCDPI staff and school districts across the state doing local and regional promotions and presentations.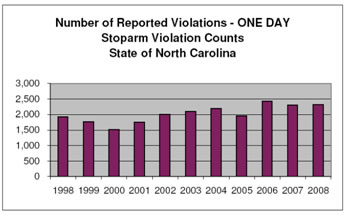 As an indication of the prevalence of the problem of stop-arm violations, an annual One Day Stop-Arm Violation Count has been held for over ten years. The number of school buses reporting a stop-arm violation during this count has ranged from 1,511 in the year 2000 to 2,438 in the year 2006. 
Current legislation being considered in the North Carolina Legislature (the Nicolas Adkins School Bus Safety Act) targets Stop-Arm violators who pass stopped school buses. The Act allows video camera evidence to be admitted in court when prosecuting Stop-Arm violators. Hence, this is an opportune time to raise public awareness to the general public about the danger of passing a stopped school bus.
Printable Banners (pdf)

Click on a Banner below and print it on any plotter.
Note: These images are VERY large.

#1
#2
#3

Preferred Banner Sets:
_____Set A: Banners #1 and #2
_____Set B: Banners #1 and #3

Click and Print the Official Loan / Use Form

Printable Posters (pdf)

Click on a poster below and print it on any color printer.